Located in Jamaa Township, Jammer Central is a bulletin board that showcases a number of cool features.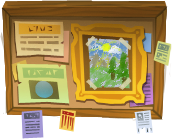 See What's New
- This area tells you about some of the new awesome changes with our games.

Gallery
- The Gallery features artwork created by Jammers like you! The Gallery is updated frequently, and you can submit your own art by clicking on the Submit Your Work button.

Featured Video
- If you want to watch cool videos that often can't be found anywhere else in Jamaa, Jammer Central is the place.
Submit Your Work
- From here you can submit your awesome art for AJHQ to see.

Remember that Jammer Central is updated all the time, so check back often and see what's new!