There are several things that can prevent the Jammer Wall from showing or being edited.
The first thing to check is that your Jammer Wall is on. To do this while in game:
- Tap the Settings

option in the top-right of the screen.
- Find the Jammer Wall in the list and make sure it shows as On.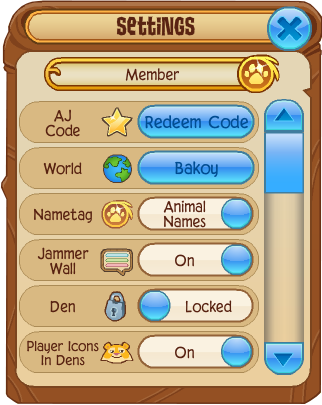 - Go to your Jammer Wall

by selecting the option from the top of the screen.
If you click on the icon and a message pops up saying that your Jammer Wall is not turned on, then your parents will need to turn it on in the Parent Tools. To do this, have them:
- Open the Parent Tools web page and log in.
- Using the drop-down, select your username.
- Click the AJ icon and toggle Jammer Wall to On.